I want to make this decision easier by showcasing the best ecommerce software so you can find the right solution for your online store. Let's face it – in the end, out of 477 platforms, there will only be a few left standing, so you want to make sure you pick the winner.
These reviews are based on price, reliability, technical support, features, scalability, product options, shipping, fulfillment, the control panel experience, and more.
Please note, I may receive affiliate compensation for the links below. However, these are the best tools I have used and tested that I believe are most effective for launching and running an online store.
WHAT ARE THE BEST ECOMMERCE PLATFORMS?
Ecommerce platforms are robust, full-featured way to sell products online. When choosing from the best options, there are many considerations, and each ecommerce website builder provides different features.
For example, your needs will be different if you're selling 3 products vs. 100. Or if you want to do dropshipping rather than your own shipping and fulfillment.
Ultimately, ecommerce software should allow you to easily add your products, offer coupons and discounts, automatically track inventory, and help manage shipping and fulfillment so that you can focus on running your business.
Here are my picks for the best ecommerce platforms:
1.

BEST WEBSITE BUILDER FOR LOCAL BUSINESS and ECOMMERCE ($11/MONTH)
Bookmark is not your typical website builder but instead a powerful Artificial Intelligence platform that also has excellent website builder functionality and zero transaction fees.
I added Bookmark to this list because of their very advanced feature set. This includes best in class SEO (URL structure, site speed, uptime), conversion rate-optimized themes, and 600+ product options.
If you're looking for a website builder and might sell products one day, Bookmark is only $11.95/month and has more advanced functionality than Shopify, Wix, Squarespace, and all other top website builders and ecommerce platforms.
If you're looking to add shopping cart software to your website builder, look no further than Bookmark. First, I love their AI themes because conversion rate optimization is their first priority with your web pages.
Sites look great, load fast, and every website conversion action is accounted for. I currently use their AI platform and vide background to sell digital products on one my  site and the speed is fantastic. Instead of bogging down hosting companies by sharing resources, BC4WP uses an open source API, allowing front end content  and a backend commerce engine.
I originally used bookmark as its AIDA works by just letting them know what is your product and services or industry and it will create your website in 30 seconds. Just sit back relax and watch how AIDA makes websites designs until your satisfied.
By switching to Bookmark, I've increased my e-commerce site conversion rate substantially.
They have three retail plans available ranging from FREE $0.00 to $24.95/month and they offer a free 15-day trial to set up your own website.
 Unlimited Storage
 Connect your Domain
 You get a Free Domain ($24 Value)
 You get a Free Email ($24 Value)
  You get a Free Secure SSL certificate (Value $100)
 Online Courses ($497 Value)
Get started with Bookmark today.
BEST SIMPLE ECOMMERCE PLATFORM FOR SMALL BUSINESS ($9.50/MONTH)
3dcart is a fast growing ecommerce platform that is known for their strong SEO features, 50 free themes, and 100+ payment processors.
Their plans range from $9.50 per month for a Startup Store up to $114.50 per month for their Pro Store plan. All plans come with domain registration, no transaction fees, unlimited bandwidth, a Facebook store, a built-in blog, API access, and 24/7 tech support.
They recently released new shipping settings and an upgrade to their promotional tools. For shipping, you can display all of your order's shipping carriers and rates on your checkout page instead of just one at a time.
Then rates are loaded automatically when a buyer checks out with their credit card or PayPal.
With Promotion Manager, you can choose multiple Customer Groups to offer a promotion to at once instead of just one group like in the past. This is great for B2B brand and users that want an online shopping cart with more personalization.
Ultimately, if you're a small business that needs strong SEO, marketing tools, and ecommerce functionality without the need for advanced enterprise features, 3dcart is a good choice.
Try 3dcart today.
EASY ECOMMERCE WEBSITE DESIGN AND HUNDREDS OF THEMES ($23/MONTH)
Wix is a fast growing website builder that allows users to upgrade to full ecommerce functionality for $20 per month. They boast hundreds of designer-made templates, promotions and gift cards, beautiful product galleries, and easy order management and shipping.
They automatically optimize your online store on mobile, including iPhones and Android devices, (Apple and Google). You can also customize the look of your mobile ecommerce site with their online store builder tool. You don't need to dive into HTML or CSS in order to create a stunning site with Wix.
Finally, they offer a domain name, secure checkout, 24/7 customer support, multiple payment options and solutions, global tax and shipping, and coupons and discounts to help you sell more.
Try Wix Ecommerce today.
4. SHOPIFY
BEST ECOMMERCE PLATFORM FOR DROPSHIPPING ($29/MONTH)
Shopify is an ecommerce powerhouse, hosting over 400,000 merchants worldwide. When you think of ecommerce, your mind might go right to Shopify. They're a Canadian company that launched in 2004 and quickly became one of the fastest growing SaaS companies in North America.
Dissatisfied by existing mobile apps and ecommerce products on the market, Tobias Lütke, Daniel Weinand, and Scott Lake built their own open source web application with Ruby on Rails and launched after two months.
That program became Shopify.
Fast forward to today and when I think of Shopify one thing comes to mind – dropshipping.
One reason Shopify gained massive brand awareness was by appealing to the widest possible audience of "dreamers" – people with little ecommerce experience, but firm believers they can strike it rich in a short period of time.
I fell for it too. 
I built a dropshipping website on Shopify in 2015, believed the hype, and designed a high-end camping gear store very amazingly named Rebel Peak (now that I think of it the logo was actually pretty legit lol). After carefully picking my inventory, painstakingly tracking my potential gross margin in spreadsheets, and integrating wholesalers and Shopify with Inventory Source, I launched my store.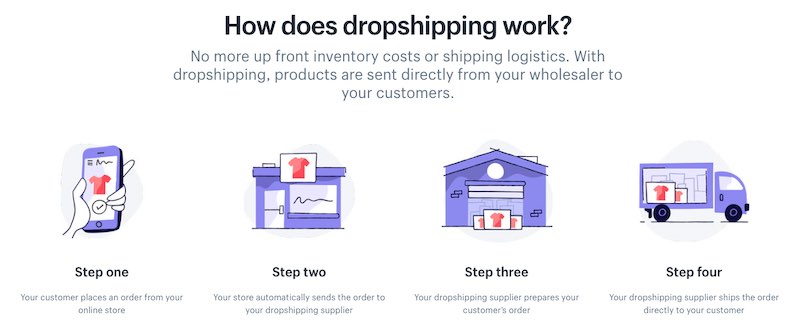 That's when I realized Shopify's limitations. 
Yes, while it was easy to design a cool-looking website and add products, once it came to generating traffic and managing sales, reality struck. Shopify is not the best ecommerce platform.
For one, your URL structure is locked into their format. For example, instead of a category pages located at rebelpeak.com/camping, Shopify forces you to use their format of rebelpeak.com/collections/camping. This is not ideal for search rankings, especially considering "category" is a higher-level subfolder than the more important keyword "camping".
Second, they have limited product options. If you are selling t-shirts for example and have different colors, materials, and sizes, your SKUs add up quickly. Shopify is limited to only 100 product variants – not nearly enough if you have a good number of product combinations.
Compare both of these issues to BigCommerce: zero rules on URL structures and 600+ product variants – and you start to understand the story.
Shopify is also moving their business model to an add-on-centered approach, moving into payment gateways and point of sale systems. Pretty soon, Shopify may be the Amazon (or Facebook) of B2B retail and ecommerce, generating most of their profit from transaction fees, apps, and selling data.
I'm not saying that Shopify is a bad platform – it's not at all. In fact, it's a fantastic tool. Brands are successful highly successful with Shopify and Shopify Plus.
I just want to be a realist and not let popularity cloud reality. Running an ecommerce, even if it's dropshipping, is hard work.
So the next time you're on YouTube and see a pre-roll ad telling you how to make $1 million in three months by dropshipping with Shopify, please click skip immediately.
Ultimately, Shopify has three plans ranging from $29 to $299.
All plans include unlimited products, a free SSL, discount codes, inventory management, multilingual support, an easy buy button, abandoned cart recovery, marketing features, and 24/7 support. To test them out for yourself, they offer a 14-day free trial.
Try Shopify today. 
5. VOLUSION
BEST USER-FRIENDLY ECOMMERCE PLATFORM ($26/MONTH)
Volusion is a company founded in 1999 and launched in 2002 by a then 16-year old named Kevin Sproles. I met him in person in early 2019 and he had a pretty amazing story.
Volusion is a strong, basic, all-around ecommerce platform that has a lot of functionality and a new Content Builder, which almost rivals the Elementor WordPress plugin in ease of use.
Their $26/month Personal Plan comes with unlimited products, online support, and zero transaction fees.
On the high end, their $161/month Business Plan comes with more in-house support, which is primarily what they are known for. A benefit of a Volusion site is that they have an in-house SEO and marketing team that can help with digital marketing and getting visibility on search engines.
Higher tier plans come with "$100 of quick wins" every month. If you're a store owner, this could be a quick web design fix, SEO optimizations, or other assistance to improve website performance.
If you want to test them out, you can get started with a 14-day free trial.
Try Volusion today.
6. SQUARESPACE
BEST DRAG-AND-DROP ECOMMERCE WEBSITE BUILDER ($26/MONTH)
Squarespace is a well-known website builder that has basic ecommerce features on their third highest priced plan.
They have four main pricing plans – two website builder monthly plans and two online store monthly plans:
Personal Plan: $12/month
Business Plan: $18/month
Basic (Online Store): $26/month
Advanced (Online Store): $40/month
Before I moved my blog to WordPress, I started with the Squarespace Personal Plan. It was very easy to drag and drop content on my site and update their pre-designed templates. However, I quickly realized that Squarespace wasn't the best option for SEO, site speed, or customizations.
Yes, they make it easy for anyone without technical knowledge, including my 4-year-old cousin to create a website, but what you gain in ease of use, you lose in functionality and SEO benefits. I remember when I started with them, I got stuck with a very simple XML sitemap issue that was impacting my SEO and simply could not be solved.
Certain URLs in my sitemap had a trailing slash (/) while others didn't, making it look like every page was duplicate content. Long story short, it was impacting my SEO and I moved to WordPress right away.
As far as ecommerce solutions go, have you ever heard anyone say, "I run my lucrative online business on Squarespace". Probably not. However, if you're already using this platform and want to add a simple ecommerce store to your site with a few products, there are some benefits.
It's super easy to set up, you get some great looking mobile-friendly templates, product management, and integration with shipping solutions like Shipbob and Shipstation. This includes real-time shipping rates from major providers like UPS, FedEx, and USPS.
They also offer 24/7 support and a 14-day free trial to test out their features.
Try Squarespace today.
Weebly is a website builder founded in 2006 that now boasts over 500,000 domains and 12% market share in the website builder space. They are made for small websites and businesses just starting out that don't need an advanced web presence.
One bonus is that Weebly has marketing automation features built-in. If you were to purchase another website builder and an email marketing service separately, you may pay an extra $10-20 per month.
Another pro is their product options. You can manage hundreds of products, track inventory, automate out of stock items, and boost buying behavior by showing customers the remaining number of products (Only 3 Left!).
Weebly isn't nearly as powerful as other platforms like BigCommerce or 3dcart. However, if you're a small business with a simple website under 10 pages and want to add some ecommerce functionality, Weebly will serve you just fine.
Try Weebly today.
Other notable mentions not yet listed include Prestashop, OpenCart, Big Cartel, Ecwid.
WHAT ARE ECOMMERCE PLATFORMS?
Ecommerce platforms are software tools to help people sell products and services online. Historically, businesses had to purchase expensive, on-premise ecommerce software with an IT setup and in-house hosting to manage their ecommerce. Now, with SaaS software technology, users can build storefronts (front-facing sales channels) online.
Source: dowgroup.com
WHAT IS THE BEST ECOMMERCE PLATFORM FOR SEO?
The best ecommerce platform for SEO focuses on important ranking factors, including site speed, URL structure, page titles/content, and sitewide HTTPS.
My pick is BigCommerce. Heres why:
With site speed, you want to make sure your ecommerce host loads your site content quickly on mobile and desktop. Even a 100-millisecond delay in load time can drop your conversion rate by 7%. Use tools like GTMetrix and Google PageSpeed Insights to check your ecommerce site speed on a regular basis.
Second, image compression is another important factor to site speed, as images that take a long time to load increase page load times, impacting user experience and SEO.
BigCommerce is the only ecommerce platform to give merchants Google AMP on both product and category pages, as well as automatic image compression with Akamai Image Manager.
Regarding URL structure, BigCommerce features the best default URL format.
For example as highlighted earlier, www.rebelpeak.com/camping/blue-tent is the best format to follow in the order of domain, category, and product. They allow you to do this, while other platforms like Shopify force you to keep their structure, including the static "/collections/", /pages/", and "/products/".
This is not ideal for SEO, so BigCommerce wins in this regard and is my pick for the best ecommerce platform for SEO.
WHAT ARE THE BEST FREE ECOMMERCE PLATFORMS?
If you're looking for a free or open source ecommerce platforms, you can find many readily available. When researching different ecommerce frameworks to use, it's important to ask yourself a few different questions:
Are you interested in self-hosting?
How much web development experience do you have?
How much creative control do you want?
Would you rather pay a small fee every month to have everything wrapped up in one package?
I would personally go with a paid option over an open source system, because the small fee will save you a ton of time and development costs.
Some limitations of open source ecommerce platforms are that they require more development and coding knowledge, you have to find hosting by yourself, all site maintenance and security has to be done by you, and you don't get dedicated support.
WHAT ARE THE BEST ECOMMERCE PLATFORMS FOR SMALL BUSINESS?
The best ecommerce platforms for small business are focused on uptime guarantees, security, PCI compliance, usability, and performance. If your business depends on ecommerce sales, your requirements will be more stringent than an individual selling online.
In the B2B space, there are also a lot of dependencies on your platform's user access levels, shipping methods, tax calculations, and invoicing software. You need a solution that is easily managed by multiple users and minimizes time to complete orders.
After all, the more time you save on compliance, shipping and fulfillment, the more time you have to market your business online.
Here are my top picks for the best ecommerce platforms for small business:
WHAT ARE THE BEST ECOMMERCE PLATFORMS FOR DROPSHIPPING?
The best ecommerce platforms for dropshipping must easily integrate with wholesalers, connect your inventory across platforms, and automate shipping.
When you hook up your online store to a wholesale supplier, the first thing you need to check is that inventory levels automatically sync between platforms. The last thing you want to happen is someone orders a product on your site that's out of stock with your wholesaler.
Here are my choices for the best ecommerce platforms for dropshipping:
BEST ECOMMERCE PLATFORMS (SUMMARY)
There you have it – my list of the best ecommerce platforms.
If you want the best ecommerce platform that can scale with your business, I recommend you get started with BigCommerce.
If a simpler solution works for you but you still want strong SEO, I recommend 3dcart.
If you're a dropshipper than needs the best integrations, Shopify is your best choice.
What popular ecommerce platforms do you recommend?
If you're interested in hosting your website on WordPress and building your online store's email list, check out my reviews of the best web hosting and best email marketing platforms.