Choosing the best video editing software is the key to either looking like a Hollywood director or
Tommy Wiseau
.
In the marketing world, it's always "the year of video", but it should be "if you don't have video now, you shouldn't be in business". The truth is, it works: in 2018, more than 50% of marketers credit video as the file format with the highest ROI.
It's almost 2020, and it's essential to tap into the enormous power of video content if you're not already doing so. And if you're a good video editor, you can transform almost any piece of raw footage into a masterpiece.
Back in 1999 when I was 12 years old, I started video editing and it's been a passion of mine ever since. I still vividly remember the first time I was editing a clip and added that sweet gunshot sound effect coming from my orange water gun. The invisible bullet struck my friend and he flipped backwards, violently thrashing into the pool below.
At that point I was hooked.
I continued to create (at first embarrassing) videos, got more skilled at editing, went to college for Video/Audio Production, and have used a ton of video editing programs throughout the years.
Whether you want to make money online with your video content, sell an online course, make money on YouTube, build your portfolio, shoot a new movie, or just mess around with your friends – it's important to use the best software.
In this guide, I review and compare the best video editing software. My goal is to help you make an informed decision that best suits your own editing skills, the features you need, (and the computer you own).
Let's get started.
WHAT IS THE BEST VIDEO EDITING SOFTWARE?
When choosing the best video editing software, you need to consider things like the computer you're using, file transfers (inputs), editing features like filters, transitions, video and audio settings, and video file rendering (outputs).
Here are my picks for the best video editing software in 2019:
1. ADOBE PREMIERE PRO CC
BEST VIDEO EDITING SOFTWARE FOR WINDOWS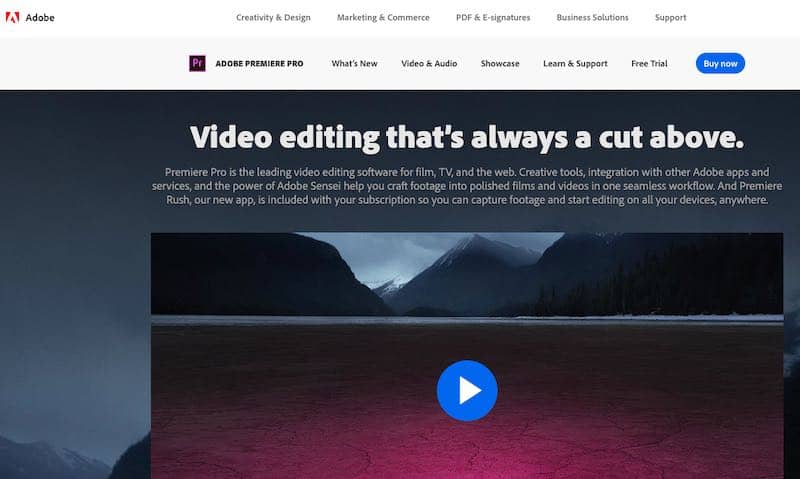 Adobe Premiere Pro CC is a leading video editing software. It has well-integrated workflows so you can edit your video without exiting your timelines. This software is time efficient too thanks to the Adobe Sensei technology which gives you an array of automated tools.
With Premiere Pro CC, you can work with the latest video formats. You can edit video footage in ultra, high-end 8k as well as in virtual reality. Content delivered on Premiere Pro CC is properly optimized for any screen.
This software is compatible with other top Adobe CC products like Adobe Stock, Audition, and After Effects. Therefore, you can easily download a motion graphics template from Adobe Stock or After Effects seamlessly without needing to leave Premiere Pro's interface.
One notable feature is its end-to-end VR 180 capability. Here, you can make the most of immersive video, deploying VR 180 support which optimizes your effects and format. You can easily publish your content on Youtube, Vimeo, (or just any other platform) using their Google VR180 format.
Color grading, and color correction are also strong features. With Lumetri Color tools, your curve adjustments become more accurate and precise, and chroma key options are more easily implemented.
Premiere Pro excels when it comes to audio editing too. With innovative sliders in the Essential Sound Panel, you can easily add effects like reverb, flangers, compression, amplification, and stereo balance. Plus, with native functionality with Adobe Audition, you can take your audio to professional levels.
Ultimately, Premiere Pro gives you the complete package you would need to create professional video. As a beginner, you'll enjoy their streamlined interface, especially its drag and drop tools, and dedicated companion mobile app.
Premiere Pro is my #1 choice in this category because of its powerful features and free trial offer.
Get started with Adobe Premiere Pro CC.
BEST VIDEO EDITING SOFTWARE FOR MAC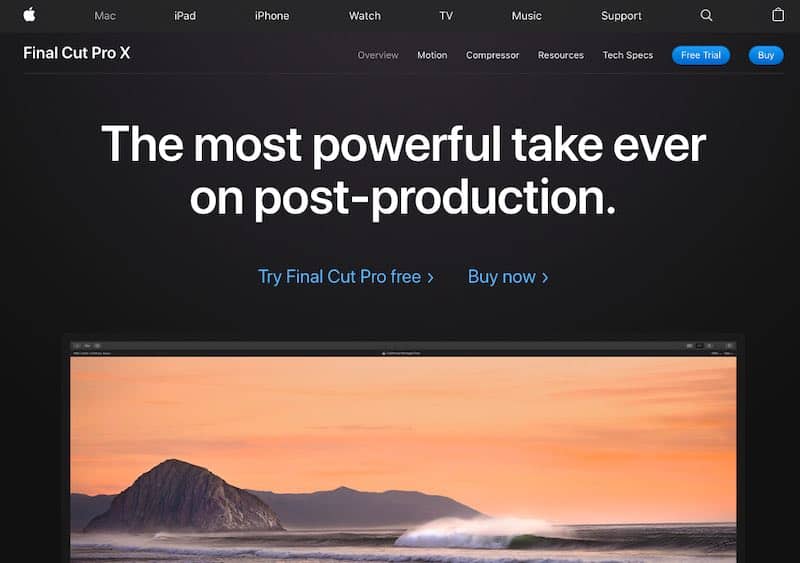 Apple's very popular Final Cut Pro X is a prosumer video editing package that is a perfect blend of professional video features with a smooth learning curve for consumers.
With over 2 million users and a steeply reduced price from the original $999 to $99 on Amazon, it's more popular than ever.
The interface uses a three-pane view with a trackless, Magnetic Timeline, which is great for using dual monitors. Clips are imported and organized as Roles in the library, which can be assets like video, music, titles, voiceovers, effects, and more.
Once video production is done and clips are imported, you can use their 149 video effects, 109 audio effects, 183 title animation templates, and 100 transitions. These transitions are very easy to implement with keyboard shortcuts, and effects can be added and saved with custom keyboard combos.
Final Cut Pro X has native support for MacBook Pro Touch Bar Editing, allowing you to use touch controls for things like timeline scrubbing and text customization. Text editing is fun too with its 3D capabilities. There are different 3D templates, textures like plastic and concrete, and lighting effects that you can add from ay angle on the screen.
Some other great features include multi-cam editing, unlimited video tracks, chroma keying, lots of exporting options like 4k and 360 video, and super-fast performance, even on older MacBooks.
For Mac users who care about power, advanced features, ease of use and speed, Final Cut Pro X is the #1 choice.
Get started with Final Cut Pro X.
3. ADOBE PREMIERE ELEMENTS 2019
BEST VIDEO EDITING SOFTWARE FOR BEGINNERS
Based on versatility, Adobe Premiere Elements 2019 is one of the best video editing tools for beginners.
Premiere Elements has a ton of great features like hundreds of transition effects, enhanced face detection, haze removal, focus adjustment, and more. There is also the eLive search functionality, an enhanced guided editing interface as well as video collage and touch-based editing.
Adobe Premiere Elements 2019 is not compatible with 360-degree video and other innovative capabilities like multi-cam editing. Yet all these are forgivable when you consider its wide stretch of capabilities.
There are three modes to create your video: Quick, Guided, and Expert.
With quick mode, you can select your preferred media for your video, and the program arranges it for you on the timeline. It automates aspects of your video like automatic motion tracking, video stabilization (great for GoPro), and smart toning.
Guided mode is more assisted as the name suggests. The software educates you on its feature and functionalities and you learn every component of the interface and how it works as you go.
Finally, Expert mode is more for more experienced users and you control everything yourself. While Adobe Premiere Elements 2019 isn't as advanced as other tools on this list (and isn't the fastest either), it's a great entry-level app. It only costs $69.99 and they also have a free trial available.
Overall, it's a great all-around tool that's available for both Mac and Windows 10 PCs.
Get started with Adobe Premiere Elements 2019.
4. APPLE IMOVIE
BEST FREE VIDEO EDITING SOFTWARE FOR MAC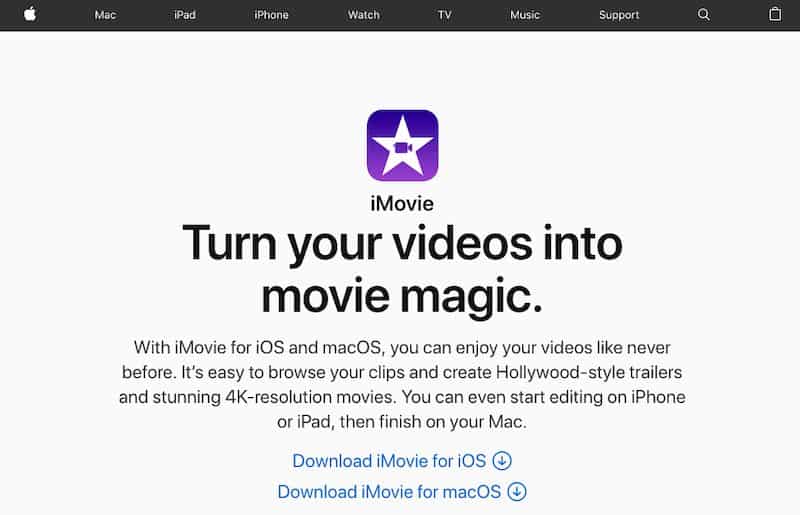 If you are a Mac user, Apple iMovie is a classic free video editor to start with. It's a user-friendly tool for basic video editing with support for 4k resolutions a wide range of features.
iMovie has a crisp performance on modern Macs and is optimized for both the Macbook Air and Macbook Pro.
Recent updates include touch bar support and 4k video functionality. You can also process video clips at speeds as high as 60 frames per second.
Apple compatibility is also a strong suit. You can easily import video clips, audio, and photos from iCloud. You can also create slideshows and view your projects right on your Apple TV.
Get started with iMovie.
5. MICROSOFT MOVIE MOMENTS
SIMPLE VIDEO EDITING FOR TABLETS, SMARTPHONES, AND PCS
If you're looking for advanced functionality, you'll want to look elsewhere.
However, if you need a simple, free tool to quickly add simple elements like titles and music to your videos on the go, Microsoft Movie Moments is a good pick.
There are several options for your background music, including pre-composed themes with prominent names like Funky, Strolling, and Energetic. You also have the option of importing your own music. There isn't much when it comes to volume adjustment or voice-overs like there are with other tools on this list.
They do offer some fade-to-black transition effects as well as opening freeze frames. These features would compensate for the inability of the editor to add transitions between sub-clips like you would on CyberLink PowerDirector.
Microsoft Movie Moments allows you to easily share your videos across the web. With Windows Phone and PC-compatible tablets, all you need do is press a their Share button and your video will be posted to places like Facebook, Dropbox, OneNote, Skype and Twitter.
You can download Microsoft Movie Moments for free in the Windows Store. The video software doesn't take more than 15.7MB making it a lightweight tool. They're also compatible with ARM-based and Intel-based PCs, tablets, and smartphones but don't work that well with devices like iPads, iPhones, or Android devices.
Get started with Microsoft Movie Moments.
6. HITFILM EXPRESS

A STRONG CHOICE WITH AN ARRAY OF ADD-ONS
HitFilm Express is a free version of the HitFilm Pro – both created by FX Home company. Their Express version stands out for its 180+ visual effects, special effects compositing, and MP4 H.264 exporting support.
With HitFilm Express, you can select your high-quality settings. These include pause and custom playback features. These features speed up playback saving you the torment of viewing delays which high-resolution videos are notorious for.
Another powerful feature is their customizable layout panel. With HitFilm Express, you can organize objects in a scene with seamless alignment tools. You can also access 360-degree and colorist workspaces. With these features, you can concentrate on the vital functions on the panel and remove the unimportant ones.
Video rendering and exporting is where Hitfilm Express shines. You can quickly export a movie in the background while continuing to work in the editor.
Get started with Hitfilm Express.
7. VIDEOPAD
BEST VIDEO EDITING SOFTWARE FOR YOUTUBE
If you are a YouTuber, VideoPad is an easy-to-learn, intuitive editor.
There are two paid versions – the Home Edition and Master Edition. The Home Edition is restricted to just two audio tracks and no external plugins. On the other hand with the Master Edition, there are restrictions on the number of audio tracks or external plugins.
VideoPad has been updated recently to support 360-degree video capabilities. You can also add animated titles, background clips, simple text, and image overlaps courtesy of the new "Add Objects" command situated on the editor's Home tab.
One of the most attractive features of VideoPad is its intuitive UI, making it super easy for beginners. VideoPad is compatible with MacOS and Windows PCs.
With these cross-platform elements, you can easily upload your finished video straight from the editor's main menu to your selected social media platform.
For its lack of flashiness, VideoPad compensates with ease of use and the essential features needed to start uploading quality videos online – and you can render anywhere from 480p to 4k resolution.
Get started with VideoPad.
Other notable video editors not yet on this list include:
BEST VIDEO EDITING SOFTWARE OF 2019 – THAT'S A WRAP
There you have it, the best software to use to create video magic. It doesn't matter if you're a seasoned professional, beginner, or just a tech enthusiast, I hope this guide was helpful.
To recap, if you're looking for the best overall video editor, I recommend Adobe Premiere Pro CC.
For Mac users, go with Final Cut Pro X.
If you're a beginner and want a cheap option that still has a lot of features, you should choose Adobe Premiere Elements 2019.
Finally, if you want to use the best free video editing software for Mac, you can download iMovie.
To monetize your video content, you can check out my guides to making money on YouTube and my reviews of the best online course platforms to sell video courses.
What video editor do you use? Are there others I should add to this list? Let me know in the comments